The Rise and Rise of Triathlete, Vanessa Murray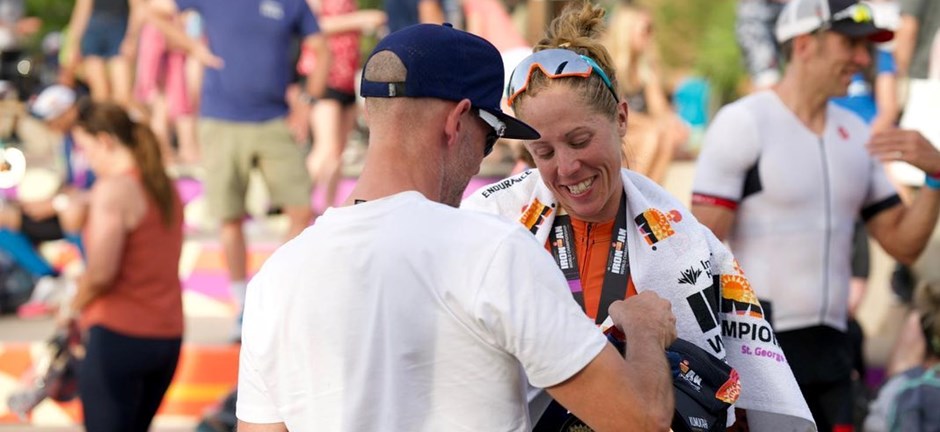 Vanessa Murray commenced training with Fluid in mid July 2019, following a period of being self-coached. She came to the program with some very accomplished results but was looking for a new focus as she wanted to race Ironman distance again following a 3year break.
She sat down with Head Coach Sean Foster to map out her build to Ironman New Zealand 2020, wiping the slate clean with a new training approach and mindset.
Over the ensuing months Vanessa got into the flow of her new training program, first competing at Western Sydney 70.3 where she finished first age grouper overall, some 14mins faster than her previous race over the distance. She then went onto win Ironman New Zealand as the first age grouper to cross the line in a new course record time.
Over the next 2 years Vanessa would set new PB's over every distance from Sprint to Ironman. These included two stunning performances at Ironman Cairns 2021 (9:25:40hrs), and Geelong 70.3 2022 (4:16:48hrs) where she won, breaking the all-time age course records. Her newfound bike power and run speed off the bike had been taken to another level, making her very strong across all three disciplines.
During this period Vanessa was also selected as a member of the 2021 Zwift Academy Tri Team, one of only 6 athletes chosen worldwide. This team is often known as the best supported amateur triathlon team in the world and her selection was a testament to her exceptional abilities and results.
One of the selection criteria for the team was based on her ability to perform well at Ironman World Championship level. In 2021 the World Champs was postponed due to COVID and as a result there would be 2 World Championships held in 2022, one being in St George, Utah and Zwift chose this for the members of the Team and with that Vanessa's big goal was set.
Coach Foz and Vanessa went back to the drawing board, analysing the brutal St George course and expected conditions, to see what was required to perform well come race day. A training plan was set, with specific benchmarks around improving bike power and the ability to sustain performance close to threshold, something that would be required for the long-sustained climbs of the St George Ironman bike course. Vanessa also worked hard on her durability and leg strength for the marathon run with warm conditions over 30degrees expected on the hilly run course.
After a thorough build the day finally arrived a few weeks ago at the Ironman World Championships in St George. It was a culmination of nearly three years of consistent training and many successes for Vanessa on the Fluid program.
Her day started out with a great swim, which was in fact the fastest female age group swim in the field, then onto the bike and feeling strong until her day was interrupted by two separate flat tyres! Vanessa did not panic, even though she lost over 20mins on the side of the road changing them, showing a composure that only comes from an inner self-belief built up over the last few years.
She refocused, got back on the bike and finished strongly still leading her age group. The run course was brutal, it was hot and the marathon started with a 5km climb out of T2. Vanessa felt strong and in control despite the setbacks holding her position well to 30kms before the inevitable muscle fatigue and damage kicked in.   
She focused on using the aid stations & being smart, with quads burning and hoping they would hold up the race finished with a 5km downhill stretch to the finish. The final kms were the toughest, but she held on crossing the line a New World Champion.  
Its been a fantastic period of success for Vanessa on the Fluid program, she has worked incredibly hard and achieved results that she could only dream of that culminated in an Ironman World Championship victory, a lifetime goal.
What's next? Certainly a well-deserved break before she chases her next challenge.