Matt Fieldsend - Cairns 70.3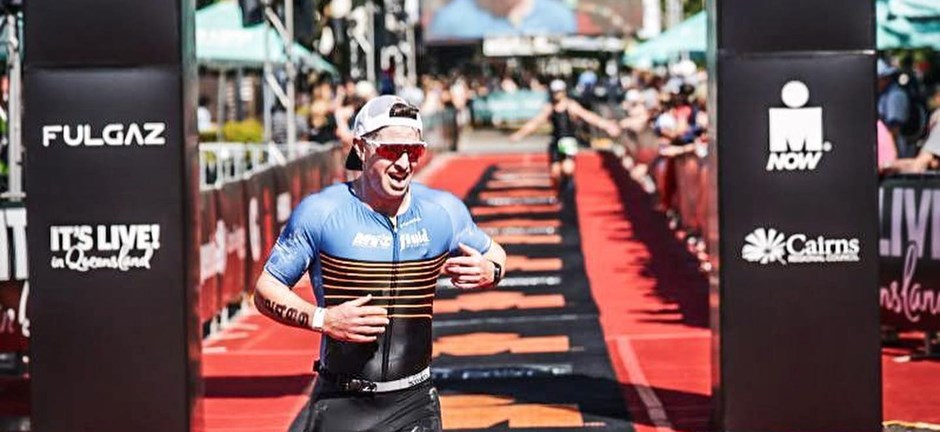 The most prepared I have felt going into a race to date. I had not missed a session since my short break post Geelong 70.3 and have dedicated more time to my swimming training, committing to a minimum of 3 solid squad sessions per week for that period.
I was also fortunate to have a conference scheduled on the Sunshine Coast the weekend prior to the race. As such, I moved my flight from out of Melbourne the Wednesday prior to the race, to out of Brisbane on the Monday prior. This enabled me to spend a good amount of time acclimatising to Queensland's weather conditions in the lead up to the race.
It also allowed me to get nice and organised in the days prior to the race which is more important in Cairns, where you need to drop off T1 and T2 equipment to separate locations in Palm Cove and Cairns respectively.
I got a good sleep and got up to eat and have everything prepared to be picked up to be transported to T1/swim start. This is where I had my first of two mini disasters for the day… I managed to leave my aero bottle at my accommodation as I had laid it separate to everything else to keep it upright and not lose the contents. I did not realise until I was walking my bike into T1.
Thankfully, my cousin was able to get it to me about 15 minutes before the rolling start. I had to run it to T1 whilst getting into my wetsuit, so this served as part of my warmup. I walked back along the beach to the swim start and then got in and swam along the beach to get a feel for the water. All was well as ended well. No excessive energy expended thankfully.
Swim:
I would have liked to have been further up the rolling start for the swim to get better feet but it did not work out that way. I hit the water and it was a bit of a washing machine by the time we hit the first turning buoy and turned right into the current. The water was warm, and my goggles started to fog a little quite quickly. I had some difficulty sighting boys as we turned out to sea and then back North along the coast as we looked into the sunshine, and I breathe dominantly to my left which was into the light chop and sun. Outside of these minor issues, my arms felt good, and I could feel the endurance in my swim muscles built through the last 12 weeks of focussed swim training. 30:13 = PB 70.3 swim.
I got out of the water feeling like I had plenty of energy, heart rate was under control and not too many matches burned.
T1: I moved through the lengthy transition well and legs felt good straight out of the water. A few issues getting my tri suit on up over the shoulders which I kept down as I find it too restrictive to swim in. Wetsuit off and packed quickly, cycling shoes on smoothly… but then my toolbox popped out I unracked my bike. Mini disaster number 2: Tyre levers, C02 canisters everywhere. I considered leaving them and going without to save time. But I had already had a puncture on a training ride on the Captain Cook highway earlier in the week, so I elected to burn the time to ensure I had back up. 3 mins after exiting the water I was out on the bike.
Ride:
My legs felt fresh from the get-go on the bike and I started my Pac man leg from the very first hill up out of Palm Cove. I settled into the top end of my Power Range, kept my heart rate under control, got into aero once I was out on the highway and immediately started to gobble people up. I conserved up the inclines, held power over the top of each hill and was able to make gains on the downhill. The first 70kms of the ride went that way, just watching the numbers and overtaking.
I worked with a group of around four guys in the last 20kms as we got out into the open coming into town. We were all pushing similar numbers so it was too hard to break the elastic. Take a turn on the front for a couple of minutes, then sit up, eat, drink and conserve the legs when someone came past to do their turn. This allowed the legs to be nice and fresh getting off the bike. It also meant I ended up with a lightly lower average power number than I would have expected for the ride.  2:24:10 - not my fastest but difficult course and set myself up to run well.
T2: went super smoothly, nothing to see here.
Run:
Legs felt really good going into the run. The best I have felt getting off the bike. Have faded a little in the third 5kms of my last couple of half ironman runs, so I was determined to have a consistent run. I knew at the many turn points on the course that there was a couple of guys in my age group that were a couple of minutes ahead of me. Although I had no idea where I would have been placed overall, I felt like I had a chance to run them down.
I held my numbers and felt comfortable up until the 18km mark. Then I stopped looking at the watch and let go. I was able to catch another two from my age group and come in for 4th, a PB and a qualification for a spot at the 70.3 World Championships in St. George, Utah.
1:27.07 = PB 70.3 and feel like I still have a lot more to gain here.
Definitely the best swim, bike, run combination I have executed, even if there were a few RFI's around the edges.
Cannot wait to pull the race suit on again!