Leigh Anderson - Earning his Pro Stripes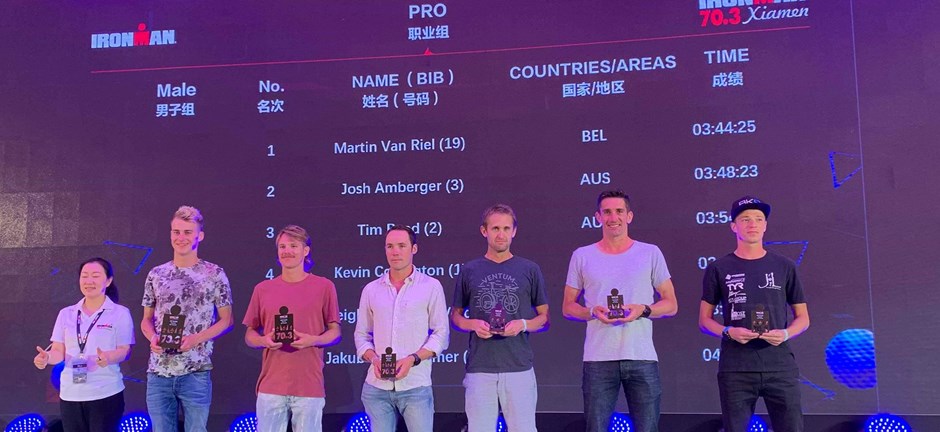 Three weeks after achieving his first Pro podium 3rd place finish at Shanghai in a PB time of 3:48hrs, Leigh once again headed back to China to race, this time in Xiamen. We had decided after his best result to date in his short pro career that we would keep the momentum rolling at Xiamen.
The field for Xiamen was the strongest field Leigh had lined up in to date, it included the likes of Josh Amberger (IM Cairns and multiple 70.3 winner), Tim Reed (2016 World 70.3 Champ), Kevin Collington (last year's Xiamen winner), Pete Jacobs (2012 IM World Champ) and ITU athlete Marten Van Riel (6th Rio Olympics) who was racing his first 70.3 event.
Leigh had his best swim so far, even though it didn't reflect it with his position out of the water. He was closer than he has ever been to athletes like Pete Jacobs who he regularly races against. ITU level swimmers Van Riel, and Amberger (who is one of the best long course swimmers in the world) pushed the pace out front, forcing everyone to swim out of their skin to mitigate lost time into T1. Out of the water Leigh was a little isolated and out of luck with no strong riders around him to bridge the gap to the main pack resulting in a 75km solo ride. The effort was there, holding a PB highest average HR but power was a touch down on 3weeks earlier, but still Leigh managed to match the pace of the group of 6 ahead of him.
Through the first 5km of the run Leigh quickly passed Jacobs, Betten and co to move into 5th spot, he then set himself on the 4th placed Kevin Collington closing the gap to within 36 seconds but fell just short crossing the line 5th at Xiamen.
On a day where some luck wasn't on his side, where the form wasn't as sharp Leigh was able to finish 5th in a high-quality Pro field. Three months ago Leigh in these circumstances would have finished outside the top 10. Leighs newfound swim form from his last 2 races has unlocked the opportunity for him to be in the mix for race podiums and wins. His bike ability on a good day now can see him break up the field at the head of the race, and on a bad day he can cut his losses without losing time to the main chase pack. And his recent run speed and endurance gains gives him the ability to run through the field and hold it together at the back end of races where fitness is key in the final 10k.
There are a lot of takeaways for Leigh with each race he does now. In his early events he was just making up the numbers but with some consistently good results at Sunshine Coast, Shanghai and now Xiamen against some of the best 70.3 athletes in the world his belief in the training process and where it is leading him is strong. With each event he is earning the respect of the pro field though his style of racing and is becoming someone who his fellow competitors now take notice of every time he steps on a start line.
Results
1st Marten Van Riel
2nd Josh Amberger
3rd Tim Reed
4th Kevin Collington
5th Leigh Anderson.
Sean Foster