Ironman New Zealand 2017 Race Report Fiona Coyle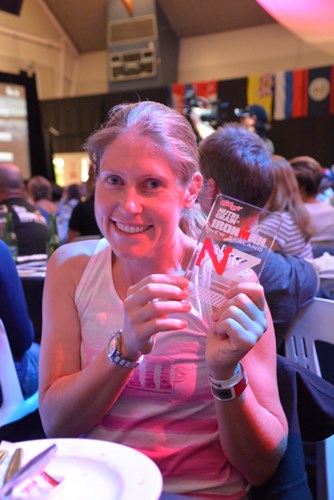 "An Ironman – you do not have to do this, you get to do this"  Meredith Kessler
Being a triathlete in Alice Springs I spend a lot of my training hours indoors, escaping the weeks on end above 40deg, churning up hours on the treadmill and bike trainer. I'm lucky enough to be a member of the best gym in town (Anytime Fitness!) which streams YouTube onto each individual treadmill, so many of my long runs were spent watching past races of ironman New Zealand. It was here where I learnt about the athlete and role model that is Meredith Kessler. A 6 times winner at Ironman New Zealand, a finisher of 60 ironmans, yet still so embracing of every single athlete just striving to finish an ironman. Watching the race recaps I noticed she used a strange word - Gumption a lot. Its meaning I think summarises her and the reason I love triathlon so much:
Gumption
is what gets us up in the morning with the motivated mindset to pursue dreams with fortitude and grace while accepting potential challenges, adversity and defeat.
Gumption
is about never letting anything break your stride or steal your light, emotionally, personally and physically.
Hearing her speak to us at the pre race dinner really hit home. I was here in New Zealand to do my 9th ironman and had nearly forgotten how lucky I was to have this opportunity. I left the dinner with a smile at the thought of getting to do another ironman. 
SWIM
I woke up Saturday 4th March at 4am wondering why I could hear the sound of the ocean?? I walked out onto our balcony and realised it was coming from the lake, the lake I was to race in in 3 hours time, the lake that for the past week had been flatter than a pancake and had me thinking I could possibly swim under an hour for the 3.8km! Back in Alice I do all my swimming at the one local pool (the nearest open water is 1500km away), so I started praying that my weekly swims next to the water aerobics ladies through their waves and whirlpools would give me an edge to survive this swim!
I joined my 4 Alice teammates by the start (one my husband on his 10th ironman, 2 iron-virgins Duncan and Mark, and Barney originally from NZ) as we watched the traditional Maori welcoming, then it was into the water. A mass start. Even though I have done 6 ironman mass starts they still terrify me, it really is like you are in a washing machine! People were all over the place for the whole 3.8km swim, at times I felt like I wasn't moving at all, and other times my arm would smash against a wave and spin me into the direction of the shore. By far the hardest ironman swim I have ever done. Later I would find out one of our teammates Duncan had even vomited into the water and kept swimming (luckily I don't think I was behind him at that time!).
As I finished the swim and made the 400mrun up to transition I couldn't even look at my garmin to see the time, I knew I was slow. My focus was now already onto the bike.
Swim Time: 1hour 7mins
BIKE
The 180km bike leg was a 2 lap course out of the town of Taupo along a country road to another town called Reporoa (home of the best milkshakes in NZ). The first half out was initially quite a lot of downhill, combined with a lovely tailwind and there were times when it felt unnaturally too easy just spinning in the biggest gear on my bike. The turn around was a different story though. Suddenly you were hit with a massive headwind, which would not disappear for pretty much the whole 45km way back into town!
It was here I remembered Meredith Kesslers words
"you get to do this
 you GET to do this!"
And then I started to really enjoy it, the constant grinding on the pedals, the challenge of constantly pushing into a wind that wouldn't go away (and seemed to be getting stronger!) and the satisfaction of passing men with disc wheels wobbling up the road was fun.
Finishing the 180km bike I was happy, I was wanting to ride at a slightly lower intensity than previous ironmans to help me on the run. I had hit the HR and power that I wanted
Bike Time: 5hours 43minutes    Ave HR: 150 (80%), NP: 164
RUN
The run! My favourite leg, where its you and a pair of shoes, no bike, no goggles, so nothing can go wrong – except in your head!
The run course was 3 laps of 14km, slight hills and downhills the whole way along side the lake and then into some side streets. From previous ironmans I knew thinking about running a whole 42km is too much for my head to handle so I quickly started to focus on just running 2.5km to each aid station and repeating that 16times!
I was hoping to hold 5min/km to try and get a run pb of 3:30, but I knew from the get go it was going to be tough. The constant little hills were eating my legs and I had to settle for 5:10 – 5:20min/km pace. Onto lap 2 and a familiar face road up beside me – Sean Foster. I felt so lucky to have that support. He surprised me by saying I was equal first in my age group at the end of the bike (couldn't tell for sure as the tracker was down). I had no idea I was in that position, which gave me all the motivation I needed to try and hold pace. During the run only 1 girl passed me, at a pace I couldn't match, she didn't have her letter on her calf (which is compulsory!) so I didn't know which age group she was in, but would later find out she was in mine. By the end of lap 2 (28km) everything was getting tired and the mental game begun. In most of my other ironmans this is where my pace drops off significantly but thanks to the new run program I had been following from Fluid movements this never happened. I just kept ticking off the kms and aid stations, holding pace between 5:10 – 5:30min/km and it surprisingly felt ok! Lap 3 and I got to see my Alice mates on the run course and my husband (and smiled as he shouted into the air "that's my wife!") and tried to up the pace as much as could for the last 2 kms home.
Run time: 3hours 41minutes average HR: 151
Overall time: 10hours 43minutes, 2nd 30-34age group, 16th female overall
Ironman New Zealand would have to be the hardest race yet and I am so thankful I had the solid run program from fluid movements to get me through the backend of this race. Even through I am just an online athlete all the way from Alice Springs I still felt like part of the team and got so many cheers on race day from the squad and the support from Sean throughout the whole program and race day could not have been any better!
Next stop: Ironman Arizona this November