Lesley West '15/'16 Triathlon Season
Season 2015/16 is done, we're in the 'off-season' (all 2 weeks of it) and so it's a great time to do a roundup of the past 50 weeks. Triathlon and its winter counterpart, duathlon, are not for the faint-hearted – physically nor mentally. No one can be at the top of their game all of the time and being the typical over-achievers that we are, this can be pretty tough to take. And like most things in life, there is no magic formula, but as I'll say to anyone who will listen, one thing is essential – consistency.
As we brace ourselves for another winter, I think back to one key day last year. It was a very wet, windy and typically Melbourne winter's morning on Beach Road. It had started pretty ok, but coming back into a horrible headwind and crappy rain, I was really struggling to keep up. We were doing rolling turns and the person in front of me had struggled going up a hill, so I lost the momentum that I needed. I was out, game over. As soon as I was dropped it was awful. Headwind driving me back, heart rate sky high, feeling like I was going nowhere. The little voices in my head started going: "what makes me think I'm good enough to do a world champs?"; "there's no way I should be doing world duathlon"; "I'm so crap, this is failure"…etc etc etc. Then the tears started. That was bad enough, but add that together with the driving wind and rain, and I could hardly breathe!! Cue having to pull off to the side of the road and actually cry. Not a little tear rolling down my cheek, but full on sobbing, can't breathe, look-like-a-kid-who's-just-dropped-their-ice-cream-cone kind of crying! Getting home wasn't fast, it wasn't pretty, and I'm pretty sure someone with a basket on their bike went past me, but hey I made it back.
That one day has stuck with me since then and I'm not ashamed to tell everyone about it – for every good day we have, there are plenty of bad days, and it definitely wasn't the last bad day I had! But, I didn't melt in the rain, the world didn't end and I realised I can be tough when I need to be.
The winter race season started mid-July and I wasn't in a great place. After a chat with Foz about performance anxiety and putting too much pressure on myself, I considered not racing. I'd also been carrying a bit of back pain although I didn't think much about it. As suspected, it wasn't a great day - halfway through the first run, my calf felt it was going to pop, then on the bike my hips were locked up, my back was sore and I had no power. I'm a lucky triathlete in that I generally run well off the bike to I managed to get myself into 3rd place, but at that point, it wasn't looking great for worlds. That day, I also met Catherine Allison – soon to be my osteopath, friend and 'bain of my life on-course' J
Winter continued as planned – lots of cold, wind, rain but also plenty of laughs and chats with my great teammates. The main focus was duathlon worlds in October, but I was also keen to keep up my swimming, something that has paid dividends throughout this triathlon season. In addition to local races, my wonderful winter training buddy and I headed to the Barossa Valley for the SA State Champs. We were keen to do a standard distance race as they're so different from a sprint and so much more challenging. We both took home state champion honours in our respective categories, celebrating a glass of Barossa's finest at the airport.
About a month out from worlds, my bike started playing up. 3 dropped, jammed, twisted chains in 3 weeks worried me a bit, but there wasn't much I could do and I was certain it would be fine on race day…
Race day came and I was so proud to be part of a great team of Fluid / MTC athletes lining up and we had some great support there with us. I was in a good position, coming into T1 in 3rd place. Jumping on the bike, I held this spot until about 33km mark when a very bike-strong American passed me. I pushed a bit harder hoping to keep her in sight when 'clank'. Chain drops. You have got to be joking?! Knowing I had to finish, I finally got it sorted, and shouting to Kimbo 2km down the road about my 'stupid b****y bike', I did what I could. Unfortunately it wasn't quite enough. After losing 1min 20sec with the delay, I missed podium by just 14 seconds.
Annoying yes, but life goes on. Again, the world didn't end and I know I'd given it everything I could. I don't 'do excuses' and wouldn't normally be the sort of person to blame my bike (why would I?), but that mechanical was definitely not my fault. Despite my disappointment, I was delighted to learn that fellow teammates had done very well and sent around congratulatory messages.
Time to rest and sort out the troublesome back. At least that was the plan. I decided to give Ballarat 70.3 a bash. No pressure, just to see what it's like to race that distance. Beforehand there was the first of the Gatorade sprint races, and although my bike leg wasn't great, I managed to run my way into 3rd place after winning a sprint finish. I was delighted to be on the podium with Catherine and Laura Armstrong – the two people who went on to make my season very painful!
At Ballarat I learned a lot about pacing and nutrition. I happily finished 7th in my age group in 4:51 but the best part of the day was seeing Lyndsey, Juan, Kenny (and other teammates) pick up their spots for worlds – I was so happy for them. It was also at that point that I decided to make Geelong 70.3 in February my A race.
A couple of months of hard training followed – to anyone looking to improve their bike strength, I can't speak more highly of Fluid's Christmas break programme or the TDU tour. Both great experiences with great people.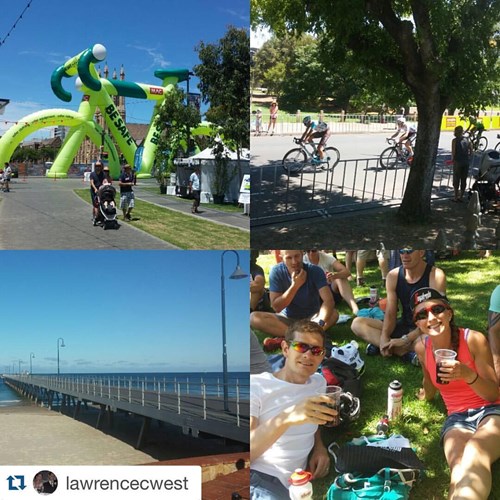 In January I opted for the local Olympic distance race instead of the sprint – practice for Geelong was more important than series points. I was delighted to take a solid win on my beautiful new Trek and really happy to see Catherine and Laura take our age group podium again in the sprint.
As happens mid-season, a couple of weeks before Geelong I was feeling tired, flat and unmotivated. But as always, coach had managed my programme well and after watching some good friends race at Challenge Melbourne the week before, followed by a great taper, I was ready to go.
My aim going into Geelong was to have the race I thought I could do and hopefully, if I was lucky, pick up a spot to world champs via club roll-down. I'm not a big user of visualisation techniques, but I did have images of me sprinting my way into 4th place.
I had a great swim, coming out of the water just behind Laura (who had just won the NZ national champs the week before, what a legend). We then caught up with the lovely Kath Wardlaw (35-39 ag) and all rode within sight of one another for the majority of the race. Beforehand, Foz had advised me to pull up slightly towards the end of the bike and not hammer my legs. So I watched the girls and another 30-34er head off into the distance. Calmly into T2 and Ken was shouting some numbers at me, but I had no idea what! Feeling very relaxed, I had a seat to put on my socks, grabbed my stuff and headed out onto the hot run. I felt pretty good and after about 3km managed to find my rhythm. As it was hot, race plan was to walk aid stations if needed, so from about 9km mark that worked, avoiding a later burnout from dehydration. At 18.5km I realised that a girl in front of me was in my age group. I passed her and knew I had to keep going. It was a tough run course, but the supporters were amazing. As I turned onto the red carpet I just put the gas on, heard Lawrence and Team Dean cheer me on and managed my usual sprint finish!
Into recovery where I pottered for 45 minutes – sitting in the shade, chatting to friends and strangers and having a massage. I finally left to find my ever-patient husband and asked him what position I'd actually finished in. Turned out I'd won my age group and finished 2nd age grouper overall! I'd just booked my spot to Sunny Coast worlds! I was also thrilled to discover that Kath had finished 3rd in her ag so also had her spot and to top it off, Kim got a spot via club roll-down. What an amazing day.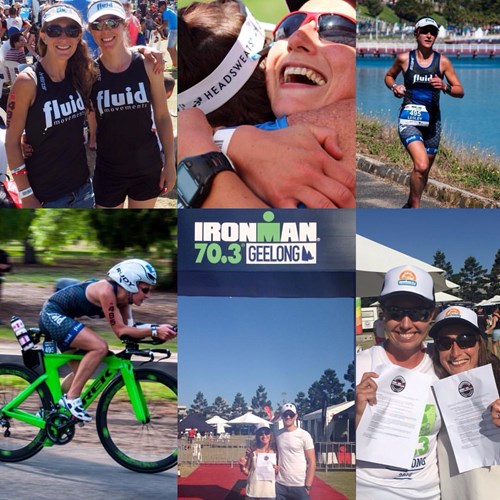 The 'A race' was done, so time to finish the Gatorade series. Next race was perfect day weather-wise and I had a decent swim. My bike was definitely improving, but once again it was my run that pushed me through the field. With an 18:42 run, I was once again faced with a 100m sprint finish and only just pipped her to the finish line. The series was really getting interesting.
Early March I was so excited to watch Kim smash up the IMNZ course – I was so ridiculously proud of her and it was genuinely one of the highlights of my season.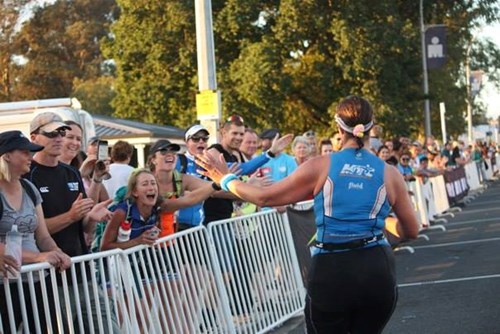 End of season blues set in and I felt a bit demotivated. Training is hard. It's tiring! This sport is tiring. Port Arlington came along and it's a tough one. My swim wasn't great and with a few issues on the bike I really had my work cut out for me on the run. I somehow managed to run my way into 2nd place, but way behind super speedster Laura – wow she was making life very tough! With Catherine in 3rd, this podium was starting to look very familiar.
One more race to go and I couldn't wait to get this season over with. The series podium could still be anyone's and as it got closer, Laura seemed to be getting stronger! Catherine was already on her break, living it up in Europe. Even my husband, Mr 'I only go to glamour races', came along watch!
I came out of the water just behind Laura, and quickly onto the bike, I watched her get further away. But head down and just get on with it. I'm not the best at pacing myself on a run, and was like a rag to a bull chasing her down. At about 3km I made the pass and from then on, I went from the chasee to the chaser – I'm not used to being in that position and it's hard.
I crossed the finish line in first place and FINALLY my long, long season was over. Wow, what a big one it's been! I was really happy to take out the series win to add to my winner's medal from Geelong.
When I started triathlon less than 3 years ago, unable to swim even a length, no way did I think I'd be in this position. I didn't even know what an Ironman / half ironman was, let alone qualifying to compete in a world championship.
I've been really inspired this season by so many athletes around me. People who 8 months previously hated running, then smashed out a 12:30hr IM; or who felt incredibly demotivated at points but stuck at it and took 2nd overall in their category in the Gatorade series; or who are battling their own injuries, but work with the coach to form a programme, becoming 'running woman' all the while being one of the most supportive people out there; new athletes to the squad who have immediately embraced everything and continue to 'smashmaster' their way through every session whilst calling us all new members of their family; getting injured early last winter but battling back and finishing the season in style. You're all wonderful!
Someone recently said something to me about this being an individual sport and I couldn't disagree more. From coaches and trainers to training buddies; on-course competitors and off-course friends; real family and my suffering husband to my amazing squad aka 'tri family'. Without the amazing support and friendships around me, I wouldn't be able to achieve what I have. People also often talk about 'natural talent', which is something else I don't really agree with. Naturally athletic yes, but I feel 'natural talent' takes away from the amount of effort and dedication that so many put into their training and racing. If anyone had seen me when I started 'swimming', they definitely wouldn't have used the term 'natural talent',
So it's time for a quick rest to recoup and then start the build to Sunny Coast. Another long hard winter ahead – fully anticipating at least one more morning of crying on Beach Rd. Lots of down points ahead but hopefully lots of ups. And with plenty of support and help from the rest of the team along the way!
And don't forget the 'magic formula' – consistency! Plus hard work, accepting the ups and the downs, supporting those around you (very key – you have to give in order to take back), and a good coach who can write you a great programme!