Fluid Cycling - Amy's Gran Fondo 2017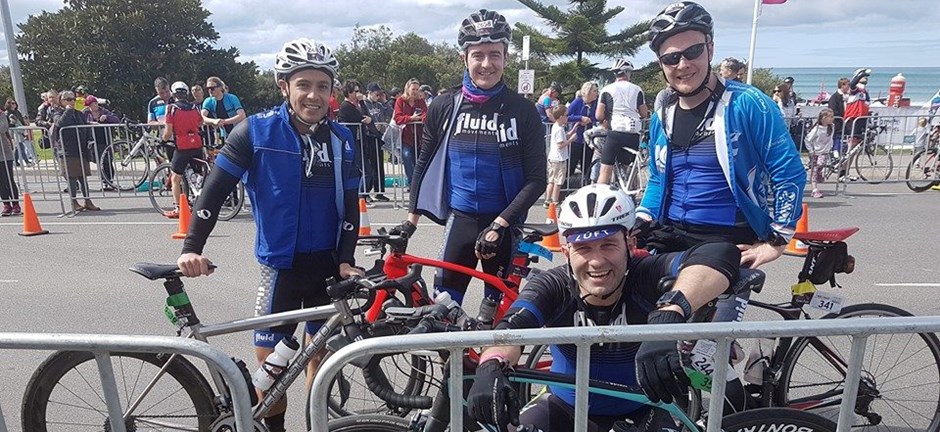 Written by Coach Aaron...
For our last race for the season the Fluid Racing crew lined up for Amy's Gran Fondo and true to form the forecast was rain, wind and cold. It seemed that all season, for us to go racing we needed at least 4 layers - five for Steve. Hamish had worn his Fluid Movements jersey about 20 times and I swear I still hadn't seen it.
The big difference this time out was that the guys were all free to race for themselves. We've spent the whole season racing as a team and working on tactics, but today with a field of 2000 in a longer race with wave starts I freed the crew up to ride for their own result. They were all totally capable of riding under 4hrs, and I knew that times between 3.30 and 4hrs would get them a qualifier for the UCI fondo world championships (top 25% of the field).
We spent the whole season training for speed and power in crits and road races of around 2 hours, so a race with 120km and two 10km 4% climbs was a huge step up.
I was incredibly impressed with how they adapted to this style of racing. They all hit the depths but pressed on and finished a very tough race, even when they had solid excuses to pull the pin.
Michael had an outstanding start, blitzing the first climb, making up the 3 and 4mins starts the guys in the other waves had on him. He was riding with a fast group but the lack of long rides in his legs took a toll, and he had a hard time of it with cramping in the last 30km.
4hrs 40mins 36sec av 25.6kmh
Hamish had one of the best climbs I've seen him do, testament to the work he'd done building his endurance and shedding the kgs. He was right up there but the second long climb got to him and he lost a lot of time, but came home really strongly, only finishing a few minutes down.
4hr 00mins 02secs av 29.9kmh
Meanwhile Mike was putting together a great race. He had the strength to ride with the big fast bunches, and crucially the bike handling skills to attack the long fast descents. In this race if you cant descend like a stone you can't stay with the fast guys. Unfortunately it was yet another mechanical that undid him, a flat during the last 20km took him out of contention.
3hr 50mins 51secs av 31.1kmh
I knew Steve had been sick the last 2 weeks but he certainly wasn't making excuses leading up to the race. He still pulled together an amazing performance - he's so strong and now has such great technique and that he can still put togethr a great ride even when well under 100%.
3hr 48mins 09secs av 31.5kmh
By the time we got to Lorne we'd missed John, it turns out he'd smashed out the 45km ride at over 30kmh and finished 34th! We definitely need to get him up tonthe full distance next time.
1hr 24mins 38secs av 31.7kmh
As a coach what impressed me most was just how far these guys have come since we started training together. There's no way we'd be talking about these sort of performances if not for their amazing dedication to training and improving their race craft and skills all through the winter.
We're leaving Lorne without any medals but with heads held high.