Ken Murley, Adelaide
Adelaide Duathlon World Sprint Championship
13 September 2015
Before I get to the actual race itself, it is probably useful to provide a bit of insight into what I had to got through to get there. So, here goes.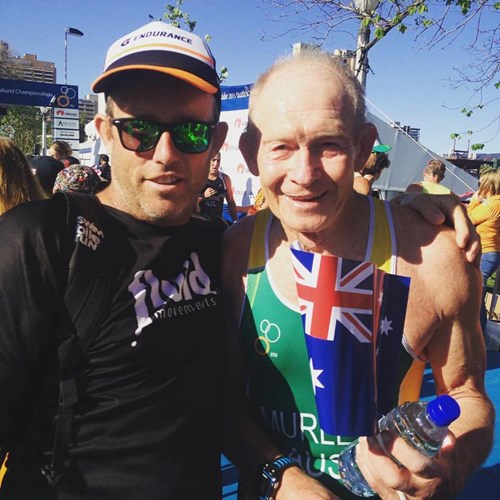 After coming back from the World Championships in Canada late last year with 3 wins under my belt, and a really bad back which had been killing me with pain for 2 years, I had to make a decision whether I would continue on in the sport, or go out on a high. Being part of a great club, full of great people with an equally great coach, the decision was easy. I pulled out this year's schedule of World Championship races and after looking at it decided I wouldn't retire, but instead would try to go one better than last year – I would shoot for four world titles.
However, coach Foz had a different plan for me. He wanted me to do Melbourne Ironman to qualify for Kona – he has this idea that I could win my age group at the World Ironman Championship. (I wish I had his confidence). So, I set about following the Ironman program, but it wasn't long before my feet started to feel the effects of the extra work. Soon, I couldn't ride or run without being in excruciating pain. I worked with a very good podiatrist to overcome the problem, but everything we tried (and we tried everything) didn't help. Next came an MRI and I was diagnosed with having torn plantar plates under both feet. For those not in the know, plantar plates are very short, tough tendons that connect your toes to your feet and keep the toes doing what they should do. Each toe has one. Torn plantar plates are different from plantar fasciitis, but just as painful and debilitating.
Essentially, the best treatment is to rest, but with the World Championships on the horizon, I couldn't afford to have 3 months of downtime. I worked out a few "props" I could use to help me compete – not at the level I would have liked, but at least I was there. Generally, I do around 15 triathlons and 4 duathlons each year, locally and interstate. Because of my feet though this season would have to be different. I decided to only do the World Championship qualifying races and the Gatorade series. With the Gatorade series I would only do enough races to win the series for my age group. I had expected that by the time the duathlons came around I would be racing them as usual, injury free.
So, despite being in a lot of pain each race from my feet and back, the triathlon season went to plan and I started the long slog through one of the longest, coldest winters for training I can recall to prepare for my stint at winning four World Championships.
Around May this year I started working with a sports medicine doctor to manage my foot problems. We worked out a program which included taping and some well timed cortisone injections. Note that I am 110% against cortisone injections, but sometimes in life the greater of 2 evils wins. Before starting the cortisone injections I had to get another MRI. Unfortunately, this revealed that somewhere along the way I had broken the 3rd toe on my left foot. Probably because of the pain coming from the torn plantar plates I hadn't noticed when the toe got broken. This created the need for another decision regarding the cortisone injection in my left foot – cortisone is detrimental to the healing process for broken bones. I only had about 6 weeks to go before the 70.3 race in Austria – I had come this far, I was very fit, I had improved my bike and swim to compensate for not running well and besides, I still had 9 other toes. It was an easy decision, I would continue with the injections.
The injections fairly quickly started to provide some relief from the pain in my feet, plus I had been fortunate enough to find a really good clinical pilates person to treat my back. After only 2 visits I had more pain free days in a week than I had in total over the last 2 years. All was starting to look good.
On Tuesday, 11th August after a great swimming session I sat down with a couple of special people for a coffee. As we finished I felt a slight tingling/numbness at the corner of my mouth. A bit like what happens when the dentist gives you an injection in your gum. I didn't think much about it, but by the time I started walking to my car my whole right side was numb and it felt like my right foot was just a big sponge. I have had really high blood pressure (and I mean really high) for several years. I take as little medication as possible and instead rely on my body to create nitric oxide when I exercise to soften my arteries so that they can expand and then less pressure is needed for my heart to pump the blood around. It works great, but it is always top of your mind that one day, which could be any day soon, a stroke is inevitable.
Being a practical person, I didn't want to call an ambulance  - I mean, what do you do with your car if it is sitting in a side street in South Yarra and you are carted off to hospital, or perhaps the morgue. And besides, I wasn't even sure I was having a stroke. So, I drove to my office at Southbank and Googled, "Stroke Symptoms."  Yep, sure enough, it looked like I was in trouble. I dialed "000" and hardly had time to put the phone down before an ambulance pulled up. I was whisked away to the Alfred Hospital where I got hooked up to all sorts of instruments, but by this time my symptoms had gone. For the rest of the day I underwent a series of tests and all sorts of scans in between which I was kept under observation in the Emergency Department. By late afternoon they could find nothing wrong with me - no more symptoms, no after effects, so they let me go home.
Move forward to Saturday 22nd August, the day I was booked to fly to Austria to defend my 70.3 world title. I had resumed training the day after I had my visit to the Alfred, against a lot of "good" advice and hadn't missed a session since. The session on 22nd was at Green's Point in Brighton. An open water swim, a 90k ride and a 5k run. I would have no trouble sleeping on the flight that night. By the time I had finished every one else had gone. I knew there was a meet up for coffee near Elwood, so I headed there. I was too late to join the others so headed for home. By the time I got to St Kilda the numbness problem had come back and I was totally numb down the right side again. Shit, what do I do now. It was a bit hard to drive. I couldn't feel the brake and was having the same problem with the accelerator. I decided to head to my office in Southbank again. When I got there I rang one of my sons to get his opinion on what I should do. He tried to talk me into calling the ambulance, but the symptoms had started to subside and were nearly gone. So, I decided to drive home – 20k away, straight out the Ring road. Should be ok I thought. On the way home though I had 2 more attacks, but I wasn't going to stop. Instead, I rang Grace and told her to be ready to take me straight to the Sunshine Hospital.
It is just up the road from our house and we got there quick. Straight into the Emergency Department, but there was a bloody long queue.  Note for future reference (hope I don't need it). If you think your life is in danger – don't drive yourself to the hospital, ring an ambulance. I was patiently waiting my turn to be seen when another attack started to come on. Grace alerted the staff to it and a wheel chair arrived in an instant and I was wheeled into the emergency ward. This was around 11.30am and my flight to Austria was at 8.30pm that night.  So, I get wired for sound and tested for this and that. Symptoms are all gone again by 12.30pm. I just want to get home and finish packing. By the time a 4th doctor has seen me it is 3.00pm and I said to him, "How much longer is this going to take?" He responds, "Why?" I answer, " I have a flight to Europe to catch at 8.30pm and time is getting a bit tight." "I have got news for you" he says, "you are staying in here tonight and besides, you are not permitted to fly or drive for 10 days. I have seen people who have had a stroke mid flight and it is not pretty." Bugger. That was the end of Austria.
I was carted off to a ward and next day visited by even more doctors. Again, they couldn't find anything wrong with me, but were still convinced I was having strokes. By the afternoon the symptoms had not returned so they sent me home with some medication.
Tuesday 25th August. I was back in the pool at Melbourne High for the morning session. Chicago Worlds were looming and the swim leg was going to be vital. Finished another good session, but alas the numbness came back again straight after. This time I didn't muck around. I got Peter Dean to drive me straight to the Alfred Hospital. I was quickly admitted to the Emergency Department and wired up to the monitors. Problem was, the heart monitor was having a bit of trouble handling a heart rate of 40bpm and the alarm kept going off. Late in the afternoon I was taken up to a ward. This time they were not going to let me go until they had some answers.
7 days later they told me I could go home. They were fairly sure that I was not having strokes, but they were still not sure what was wrong with me. The popular opinion was that I was having a rare type of migraine attack which had symptoms very similar to those of a stroke. This may be right and would account for the fact that I have suffered no after effects. They put me on some medication to prevent migraines which I have since weaned myself off. Really, the only way to check if I was actually getting migraines is to go off the medication.  If I get another episode, hey their diagnosis is probably right.  
Despite the number of laps I walked of the ward it was hard to get much exercise while I was in hospital. And I did lose a bit of fitness. However, I still intended to go to Chicago, but the problem was the medication I was on was still experimental and if I got to the USA and had to go to see a doctor, or go to hospital it might have cost me an arm and a leg (financially, not physically). So, I made the hard decision not to go. Disappointed is a hell of an understatement, but there will be other races, like the 4th in my original plan - the Duathlon World Championship in Adelaide.
There was 7 weeks until race day in Adelaide, not an ideal length of time to prepare for a World Championship race, particularly as the run legs are generally the critical ones. I knew I needed to get a couple of races in before Adelaide so I did the last Duathlon in Melbourne on 27th September and journeyed over to Perth to do the National Duathlon Championship 2 weeks later.  I was lucky enough to win my age group there, but my run was still sub standard. 10 days later I loaded up the car and with Peter Dean as co-pilot headed for Adelaide.
The last couple of weeks of trying to improve my run and competing as well, had made my legs pretty sore. My feet, particularly the left one with the broken toe, were still hurting and my back which had got bad again while I was in hospital kept niggling me. On top of that I had contracted a bad dose of the flu which I hadn't been able to shake off. Sitting around in Adelaide waiting for race day to come, I was starting to get distracted by thinking about my lack of preparation and all my real and perceived problems. It was getting the better of me. I wasn't in a very good frame of mind.
I know from experience though that Foz's program works and when you are feeling the way I was, and it is very tempting to go off and do something  different – don't. You question yourself about why am I doing this, why aren't I doing that, but in the end you have to resist those thoughts and stick with the program.  And so I did.
Because my head wasn't in a good space, I couldn't be bothered going to any of the race briefing sessions. On race day I paid for that mistake and I was lucky it didn't cost me the race.  More about that later.
Race day arrived and I had an easy stroll to the race site which was only 500m from my apartment. I prepared my bike and all my gear in transition, rechecked the run entry and exit points (but not for the bike) and went off for a quick chat with Coach Foz and to do my warm-up.  During the warm-up I felt good – no sore spots, legs, back, feet, lungs – all were good. It seemed like the planets had lined up for me at last.
Start time. I arrived at my wave a bit late, so pushed my way to the front to ask the starting official if I was in the right spot. Of course I knew was, but this is always a good tactic when you have a narrow track like Adelaide and don't want to get squeezed by the pack at the start
The hooter went off and there was the usual mad charge to sort out who the leaders would be. I held back a bit and settled into a comfortable pace, checking out where my opposition were. Surprisingly, they were all behind me.
1200m into the run the course doubled back on itself on a very narrow unmade path. It was not the place to get caught behind slower runners so I made sure there were none in front of me before I made the turn. For the next 2k I concentrated on holding my pace. As I turned onto the bridge to make my way back to transition I glanced behind, but couldn't see anyone from my age group. Halfway across the bridge Vanessa went past and gave me some words of encouragement. She was flying and a long way in front. I was wishing I still had the same speed.
Once over the bridge it was about 1.5k to transition and I was starting to feel the pinch a bit. All the repetitions I had done around the twin bridges beside the Tan over the past 2 seasons where I focused on running the last one harder and quicker flashed through my mind – Train to Race the coach's motto is –  so I checked my form, ran a bit taller and pushed harder. My pace picked up a bit - it was working. I reached transition 30 secs ahead of my opposition, grabbed my bike and headed out. It wasn't until I got to the top of the hill in transition that I realised that I had gone the wrong way. What a bugger, I should have gone to those race briefings after all. So, I ran back down the hill and of course when I got to the correct exit chute I had to run back up the hill again.
Apart from stuffing up T1, I was a bit slower than usual getting through transition because while my feet were ok with shoes on it was very painful to run barefooted.  I didn't know then that by the time I had crossed the bike mount line I had lost my 30 sec advantage, plus another 30 sec and there were 2 Yanks in front of me. I just knew I would have to go hard on the bike anyway and that's what I set out to do. The bike was running a treat and the super fast Zipp disc and 808 combination was a big advantage in the conditions.
I passed one of the Yanks in the 1st k and I thought he would have been the only person from my age group in front of me. However, 3k further on I caught the 2nd one. I had been travelling at over 40kph and flew past him. I breathed a sigh of relief and thought that would be the last I would see of him. But not to be. There was a steep hill about 6k into the ride and half way up that he went past me, riding very strong. I recovered from whatever it was I was feeling and chased after him, being careful not to draft.  At the top of the hill the course followed a square that had sides of about 300m each and which we had to go clockwise around. On the 1st left hand corner I squeezed up the inside of him making sure I pushed him a bit wide.  I then went as hard as I could to see if I could drop him.  We came out of the square and back down the hill. There was a blustery headwind and at 60kph I had to hang on tight. Half way down the hill I could see him out the corner of my eye, way out wide trying to catch me. The 90 degree right hand corner at the bottom of the hill was coming up fast but I didn't want to brake. I let the wind pull me up a bit and hit the corner at 50kph. Thank goodness for all the cornering practice I had done around the Albert Park Lake circuit - Train to Race, it really works.
I kept the pressure up after I came out of the corner and by the time I had turned for the 2nd lap the Yank was no where to be seen.
With the lack of running training I needed a good break coming off the bike to have a chance of holding off the Yanks. Even though I had gone hard the 1st lap I knew that I would have to go even harder for the 2nd lap. I could hear coach Foz yelling encouragement as I went past him and that spurred me on even more. I rode the 2nd lap at an average speed of 37kph for an overall bike time of 31.28. 
Usually, I would get out of my bike shoes before the dismount line, but because the grass in transition was long and very wet I knew that if I ran in with bare feet I would have trouble getting them into my running shoes. I couldn't afford to lose that sort of time, so ran in with my bike shoes on and that worked well. It was also a bit less painful on my sore feet.
T2 was no issue and I headed out on the run with about a 40sec lead. All I had to do was hold off the opposition for 2.7k. But the effort on the bike had taken a lot out of me and I seemed to be going up and down in the one spot.  Half way through the run I felt pretty ordinary. I could see the finish across the river and hoped like hell I could hang on. But in world title races, hoping isn't enough, you have to put in the effort to make it happen.  I focused a bit more on my effort and was soon crossing the bridge with the finish only 300m ahead.  With about 100m to go a Yank passed me on my right and because the age group tattoos were on the right leg I couldn't see what his was while he was running beside me. Deliberately, I slowed to let him get past so I could see his tattoo. I knew if I had to I could still produce a hard 50m sprint and I was backing myself to beat him if it came down to that. No need though. He was in 2 age groups below me, so I let him go and safely eased down to the finish. Coach Foz was waiting for me at the line and we got a great photo. That was the culmination of what had been a couple of very difficult months for me and I was glad it was all over. 
As I moved through the finish chute I came across Vanessa. I was over the moon to find out she had also won.