Mel Atlee
Name: Melanie Atlee
Age Group: 40-44 (F) 
What attracted you to Triathlon?
I have always been involved in sport at a recreational level having both participated and competed in many different events ranging from mountain biking, Crossfit, surfboat rowing and running. Many of these have been endurance events where I was challenged, having to push both my mind and body to its limits. I have also participated in a few sprint distance triathlons over the past decade and really enjoyed the mental and physical challenge across all three disciplines. The gratification of finishing and achieving my goals over many years has driven me to do more and see how far I can push myself.  This insistent desire to challenge myself has for some time inspired me to one day complete an Ironman distance triathlon.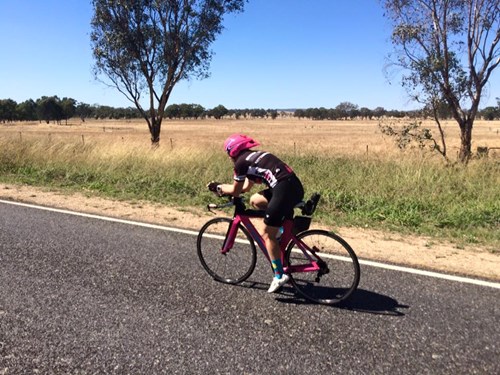 Since moving to Melbourne in 2014, this desire to compete regularly in triathlon and complete an Ironman grew stronger, and I joined the Melbourne Triathlon Club. Since joining Fluid, I have finished two 70.3- Half Ironman events, approx. 12 Sprint and Olympic distance events, where I have finished regularly in the top 10 of my age group. Given my love of this sport and my desire to keep pushing myself, along with the support of the group, in May 2016 I will be competing in my first Ironman, which I suspect will be the first of many.
What I enjoy about training with Melbourne Triathlon Club/Fluid Movements
Three things really stand out for me as a newer member and (in my words) as a run-of-the-mill athlete.
The first is the friendly, sociable and welcoming people, many of whom I now call my close friends. Regardless of your age and ability, members of the Melbourne Triathlon Club/Fluid Movements have the ability to make you feel part of a club and include you in every aspect.
The second is the high level of support and encouragement that is genuinely present and provided by the coaches and other athletes at each and every training session and event. Given the many hours of training you commit to every week, this support is invaluable.
Finally the satisfaction of watching your mates achieve their goals (whether it be at training or at an event) as well as being in a position to share my successes also.
What I enjoy outside training
Spending time with my husband Tony and planning our next holidays..!
I enjoy watching live sport and attempt to get to as many Sydney Swans games every year in both Melbourne and Sydney.
Finally, catching up and spending quality time with my friends and family.