Kim Taylor
I've been training with Fluid for a bit over 2 years. After 20 odd years of being a couch potato I started running & riding socially about 5 years ago. I agreed to do the swim for a team at the Lorne Adventure race 2 years ago and so thought it was time to actually get back in the pool too.  Triathlon is something that I've been very interested in for a long time (especially after watching my brother smash Vineman Ironman a few years ago) and so I finally decided to join a club and squad. Luckily for me I found MTC & Fluid Movements who fortunately have training venues very very close to my home. The training environment is fantastic & I can't believe how many amazing & inspiring friends I have made over the past 2 years. Everyone has a different story & a different background & different aims & goals....whether it be completing their first triathlon to winning a world championship. The group & squad is extremely supportive no matter what your goal.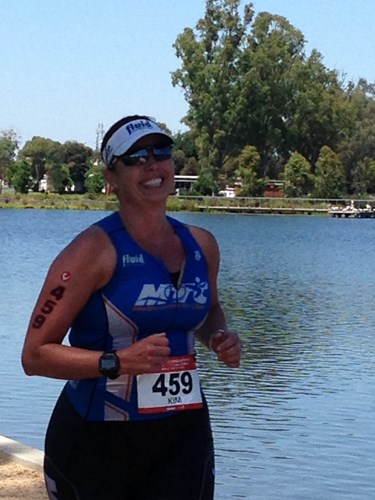 Over the past 2 years I've completed my first ever triathlon (sprint) & have even just recently completed a 70.3 in Shepparton, which was such a great experience & awesome to share with team mates & friends. I've also done a number of adventure races, a few 1/2 marathons & a duathlon (never again!!!).  
I'm currently training for my first (& likely only) Ironman in New Zealand before planning more 70.3 events all over the world. What a great excuse to travel!
In my spare time I'm a Plastic Surgeon, mostly in private practice, and I love to travel....especially to unusual locations and for events (Myanmar last year for a 1/2 marathon and Greenland this year). 
I love the squad environment & it has done wonders for my fitness & consistency.  And also coffee....we love our coffee & catch ups after training.