Gary Ryder-Robinson
I work as a registered nurse in a private hospital in Melbourne, I have been a nurse for almost 15 years and really enjoy my job however the shift work does hinder my training.
Nickname is GRR given to me by Coach Foz and it really motivates me when he shouts it out on the boundary on race days.
So like most people I was into sports from an early age, tennis cricket, rugby league, volleyball but football (soccer) was my true passion playing from the age of 8 to 18 and having numerous trials with English professional lower league teams. However a broken ankle ended my soccer career (I do come out of retirement every so often to play in charity events back home).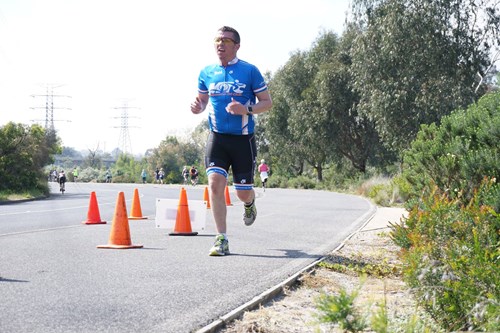 I have tried a few different sports since then including taekwondo which I did for 3 years whilst at university and then after getting married took up golf and nearly down to a single figure handicap and still play occasionally but not as much as I would like to.
How did I get into triathlons: well by chance I starting to swim just to improve my fitness at my local pool and improved so much and was swimming with a couple of guys who did open water swimming and decided to give that a go and started swimming at the venue for the UK Iron Man in Bolton and was hooked on it. After separating from my wife I decided to move to Australia and while I was waiting for all my visa/job applications I started to run again competing in a few half marathons.
So I then decided that I wanted to do a triathlon but thought I would wait until I arrived in Australia as I did not have a bike plus I had never ridden a road bike. 
I arrived in March 2015 and booked myself onto the Fluid beginner's course and have to date completed 2 duathlons and 4 triathlons and improving each time with the help of the great coaches and team mates.
Outside of triathlons: I am trying to make friends and joining a friendly tri squad has helped me to do this along with work. I am immersing myself into everything Melbourne has to offer like stand up paddle boarding, the laneways, fed square, the MCG and so much more