Jan Dean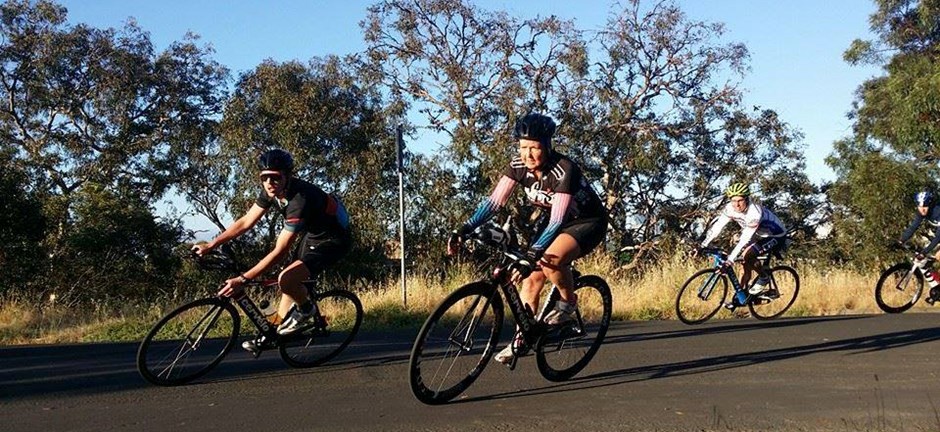 In 2010, I turned 50 and for the first time in years I had time on my hands. Life was moving on and the big question had to be asked, was I happy, healthy and productive? ……No, No and No. The decision was made, take 12 months and get my life sorted.
I have always loved sport so this was my first port of call. I was training on my own at this stage and the process of losing weight was long and arduous with many tears and tantrums along the way but unbelievably worthwhile as it led me to my current involvement in the sport of Triathlon. In 2011 a friend had been interested in doing a short triathlon and convinced me to give it a go. It was the Pink Triathlon for woman and was held at Albert Park Lake. This was my first taste of an exciting new sport (for me) and a complete game changer.
Excited by this newfound activity, I sourced a Fantastic Triathlon Club (MTC). From the moment I jumped in the deep end with squad swim sessions I knew I was onto a great thing. I was as nervous as hell having never trained with a squad before and it pushed me way out of my comfort zone. But there are some amazing people involved in this sport and they are what keep me coming back every day. They are incredibly supportive, encouraging and generous. It's more of lifestyle choice than just a hobby and I'm fortunate to have stumbled my way into triathlon.
After a few months I got onto the full training program with Fluid Movements and haven't looked back. The Coaches are the linchpins in an amazing program with the knowledge, expertise and love for the sport they are producing fantastic results across all triathlon distances and age groups. I love a challenge and over the last few years have had countless opportunities with FM to try things for the very first time, improve my fitness, learn new skills and to train with some pretty inspirational people. I have been fortunate to have the amazing opportunity to compete at the 2014 Sprint Triathlon World Champs in Edmonton and 2015 STWC in Chicago. I am currently working with my coach on my run legs (Due to ongoing Achilles issues) and look forward to qualifying for 2017 Olympic Distance World Champs in Rotterdam.
The bonus is I have dragged my husband into the sport and together we are known as Team Dean. We travel all over Australia and the World training and racing with our FM teammates. I'm looking forward to what the next few years bring. Life is Good… am I Happy, Healthy and Productive? YES, YES and YES.